Mokoro Trail Okavango Delta -- BWDAY02
Exploring the waterways in a traditional dugout canoe (mokoro) is highly recommended and a truly unique experience. Gliding silently through clear waters that have been purified by the water lilies, reeds, papyrus and kalahari sand that gives guests an unparalleled perspective of the abundant wonders.
Days/Nights:
Day Trip (8Hrs)
Starts:
Starts from Maun to Mokoro Station
Ends:
Maun, Tour Ends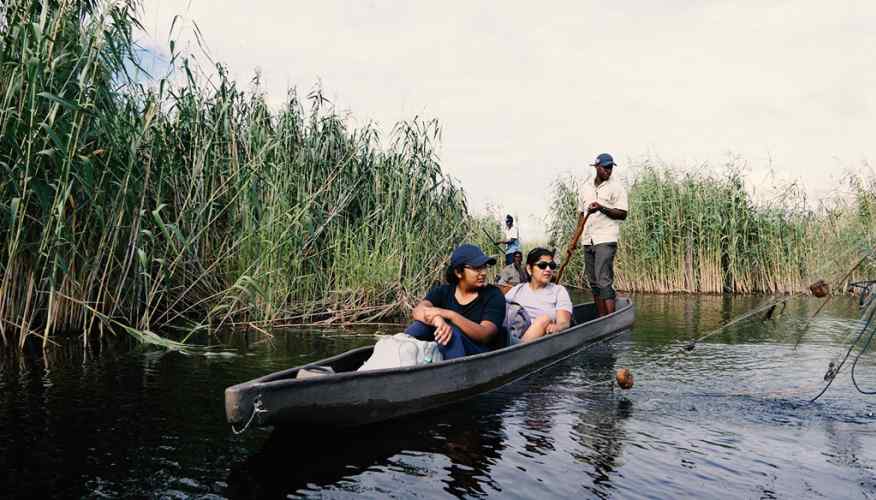 Highlights:
Okavango Delta / Nature walk
Mokoro excursion
Bird watching
Itinerary Summary:
| Day | Activity/ Place |
| --- | --- |
| Day Trip | Starts from Maun to Mokoro Station and back to Maun same day |
---
Itinerary Includes:
Entrance fees to the Okavango delta
Transport in 4X4WD game viewing vehicles Mokoro activities
Nature walk on the island
Pooler's & guide fee
Transport to & from mokoro station
Food as per itinerary (Cooked lunch)
Bottle Mineral water (2 per person)
Soft drinks per (2 per person)
Itinerary Excludes:
Air charters and airport taxes
Travel insurance
Staff gratuities (at client discretion) $10 per person per day
Game/scenic flights over the delta
Scenic helicopter
Boat cruise
Safari Grade:
A comfortable non participation safari for only a day. Mosu Safari Tours will provide Mokoro chairs, plates & cooler box with ice.
Detailed Summary:
Experience the vast Wilderness of the Okavango Delta
Okavango Delta - One of the largest Inland water systems in the world, the Okavango Delta covers an approximate area of 16 000 square km of the Kalahari. The Kavango river rises in the Angloa's highlands and flows though Namibia before flooding onto the soft sands of the Kalahari creating the inland delta. The flood waters of Angola take approximately 3 months to reach the borders of Botswana and may only reach the southern end of the Delta in June. This creates a unique source of water in this region during the dry season. As the surrounding game reserves are drying out the Okavango's waters are rising attracting wildlife which remains in the area from May to October.
One of the best experiences in the Okavango Delta is to be poled along the reed lined channels in a Mokoro (dugout canoe). The water flows inland and southeast into Botswana where it fans out to form this paradise of swamps, reed, beds, flood plains, and island and long stretches of cool, clear water.
Mokoro trips have become the popular way for travelers to experience the tranquility of the Okavango Delta. A trip by 'Mokoro' either a traditional/fiberglass dugout canoe is central for the tourists to experience in the delta. The mokoro was introduced by the Bayei people in the 18th century.
MOKORO FULL DAY TRIP
Our driver will pick you up where you will be accommodated at 07:30 am and transfer you to Mokoro Station. Arrive at Boro mokoro station at 08:15am on an open 4WD Safari Vehicle en route to the Delta where you will meet your local mokoro poler for a peaceful and relaxing mokoro journey taking in the sights and sounds of the Okavango Delta.
This activity is conducted by local mokoro community guide. Mokoro meaning (the traditional Aquatic mode of transport, dugout canoe) who will take you through the water channels listening to bird's calls. Bird life is quite spectacular; Hippos and crocodiles are also a usual sight. It takes about 2 hours to reach the island. Roughly you will arrive at the Island between 10 and 11 am depending on what you saw on the way. When you arrive you take a quick rest and stretch your legs and then you take a nature walk on the Island where you will see some animals, for example Zebras, Elephant, Buffalos, Impalas, Giraffes and many more depending on the day. At times we encounter lions. Guides are very brilliant they will explain lot of things to you about the animals and the entire environment. We then have a stopover for lunch. After eating you learn how to Pooler the mokoro. From there we Poole back to the mokoro station where we find our vehicle waiting for us. We drive back to Maun where we arrive between 16.00pm and 17.00pm
TOUR ENDS
---
---